Did you know it is possible to link your datasets to other datasets across the world, just as you can link websites to each other? The semantic web, is like an 'internet' for datasets and by transferring your dataset in a particular format (RDF), you can easily retrieve information from other datasets. Imagine how easily you could augment your own data with georeferences or national statistics!
Technically more accurate, you would not actually be linking, but querying the data. When transposing your data into RDF, you will use a common format (or create your own) to describe your data. Since others have also done this, it is possible to 'link' the data, or rather query across datasets.
Sounds complicated! And I'm not a techie!
No problem! That's why we have created some tools to help you out.
---
Project highlights
Best Paper Awards
Best Paper award at SALAD workshop for "grlc Makes GitHub Taste Like Linked Data APIs" (PDF)
Best Paper award at WHISE workshop for "An Ecosystem for Linked Humanities Data" (PDF)
What People Think
"This is great! It allows me to not only share my data, but share live queries as well!"

Ivo Zandhuis, Independent Researcher
---
DataLegend tools in the spotlight
grlc makes all your Linked Data accessible to the Web by
automatically converting your SPARQL queries into RESTful APIs. With (almost) no effort !
Share your queries
Reuse that of others
Make your research questions and answers are repeateable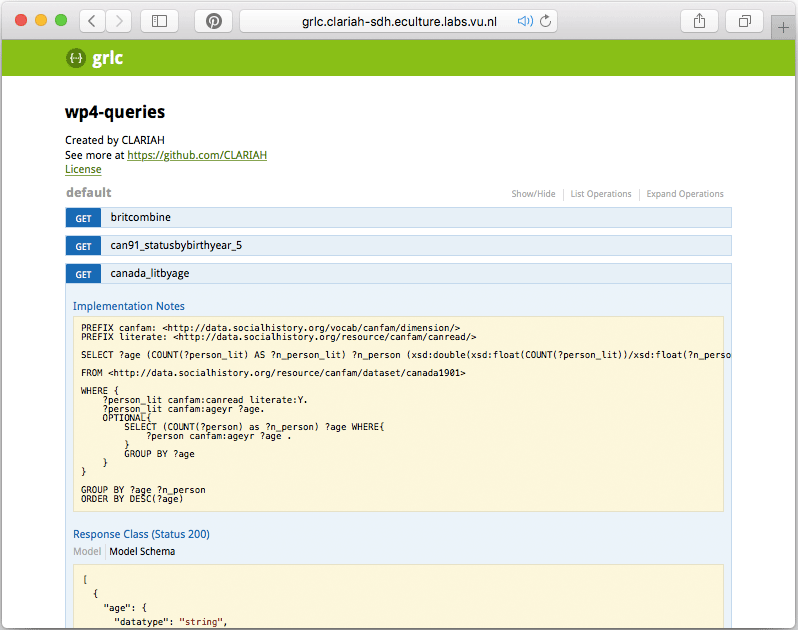 ---
Questions?
Want to stay informed, follow a course, contribute data, collaborate on code, develop apps? Contact us